People
Development
Approach
People development is at the core of our business theme. Our people development approach is based on the Learning Process Model.
Learning Process Model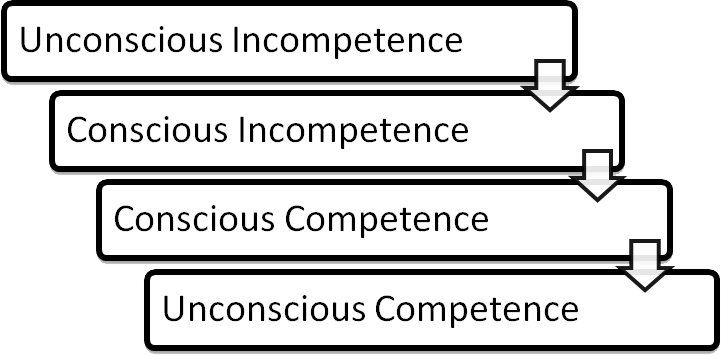 Journey Stage 1 – Unconscious Incompetence to Conscious Incompetence
This stage of the learning evolution happens through pre-work, quiz to check your understanding, defining action standards, case studies and classroom training.
Journey Stage 2 – Conscious Incompetence to Conscious Competence
During this stage the learning happens during classroom training through exercises, cases, role plays. Subsequently, the learnings are reinforced through on-the-job coaching by the supervisor and also through ecube coaches. Execution of individual projects are also an integral part of the learning process.
Journey Stage 3 – Conscious Competence to Unconscious Competence
This stage is critical where the newly adopted ways of working becomes a way of life for the learner. This transition happens through on-the-job application of the new ways of working and through usage of self-development guide and tools.
Standard Training Suite
If you do not want to customize training programs, then you can use our standard suite for all the functional competencies for the sales team. Most of the standard programs have powerful and effective videos and games built into them. Some of the programs currently available are: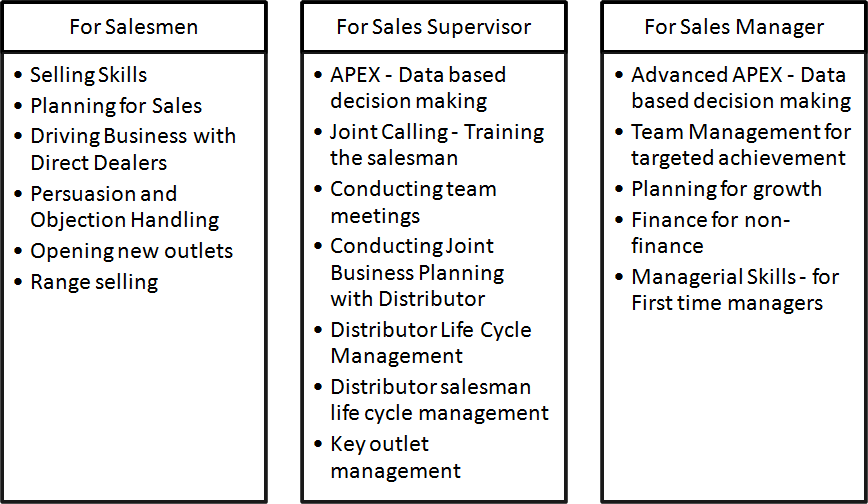 Please click here for sample videos.
Please contact us through mail or phone for a complete list of these programs.
Development Centers
Using a mix of simulations (case studies, role plays, group discussions, games, etc), Behavioural Event Interview, and multiple choice questions we assess participants on different competencies.
This is succeeded by a comprehensive Individual Development Plan which is then followed up by our team of Experts to guide the implementation.
We follow a rigorous 10 – step process for designing and executing theDevelopment Centres.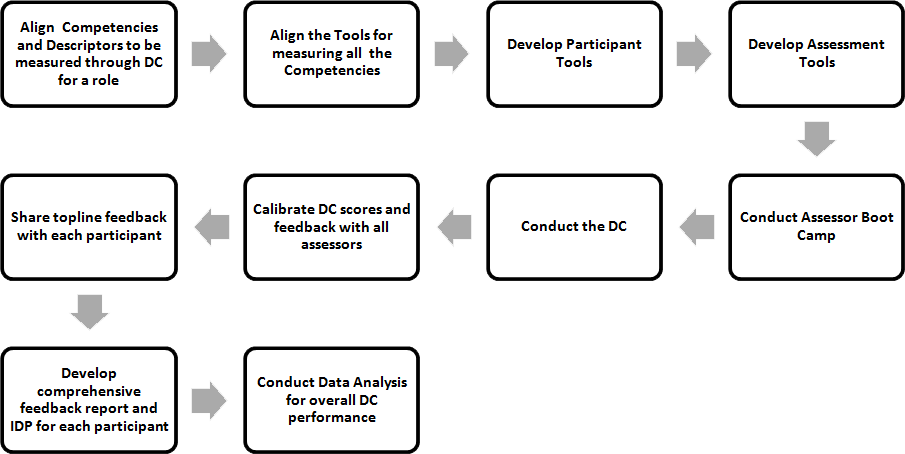 Our Assessors are successful and experienced sales professionals who are trained on conducting assessments.
Our assessment tools follow a unique Key Action-Off Action approach which makes the assessment process very objective, scientific, linked to specific competency wise descriptors.
Please click here for sample tools and IDP.
Customized Training
Enhancing competencies of the team to keep pace with changes in strategies and market environment requires training programs that are customized to the organization.
We develop customized training programs for all levels of the sales organization – starting from distributor salesmen, to sales supervisors, sales officers, Sales Managers, Trade Marketing Team, Regional Sales Managers.
Our programs are designed for variety of channels – Traditional Trade, Modern Trade, Urban, Rural, Wholesale.
We use a proprietary 5-D approach for designing and delivering customized training programs.

Diagnose the real need, basis the challenges, gaps and opportunities.
Define the program framework.
Design the customized program using relevant methodology and kit.
Deliver the program to the target audience.
Developa process health check and projects to enable participants post- program to make the concepts and techniques a way of life
To enhance the effectiveness and impact of the programs we develop customized videos, animations and audio tools, customized case studies and exercises, and interactive games.
Some key features of our training programs are –
a) The training programs are centred on the participant
b) By the end of the program, participants know exactly what to do to achieve certain results or to bring about certain behavioural changes
c) The motivation to learn and grow is stimulated in a big way, that ensures participant development and growth even after the program is over
d) Exposes participants to a memorable learning experience leading to the development of certain competencies that they can use in all areas of their lives
e) Addresses actual issues faced by individuals and organizations and helps in overcoming challenges
Ecube has the bandwidth to deliver training programs across India, in local languages, through its pool of trainers who have the necessary first hand sales background and training experience.
Our customized training videos form an integral part of a video-based training program which follows a robust 10-stage process.
For example, for a typical sales call process video, each step of the sales call is addressed as follows
Stage 1 – Objective of the Step
Stage 2 – Wrong Way Video demonstration
Stage 3 – Discussion regarding the video with participants
Stage 4 – Wrong Way Video Summary
Stage 5 – Discussion on Principles and Techniques
Stage 6 – Right Way Video demonstration
Stage 7 – Discussion regarding the video with participants
Stage 8 – Right Way Video Summary
Stage 9 – Exercise on the activity (case study, role play, etc)
Stage 10 – Summary of Key Learnings of the Step
This structure has been appreciated and used widely across different organizations
Competency Definition & Mapping
Defining sales competencies is a first step towards building a sales organization with right people in right roles.
Competencies need to clearly defined with sharply defined descriptors, for each sales role to bring clarity about the expect expectations from the sales person.
Typically, organizations' need for defining competencies stem from the following situations –
1) Competencies are not defined at all or are loosely defined
2) Global competencies master is available but these are not customized for India
3) Competencies list is available but the descriptors are not clearly defined
4) Competencies and descriptors need to be revisited to make them relevant for current context/evolution of the company and the industry
5) The master list of competencies is too large and need to be prioritized and made relevant
We follow a 5 stage process to define the right competencies and map them to the right roles for the sales structure.